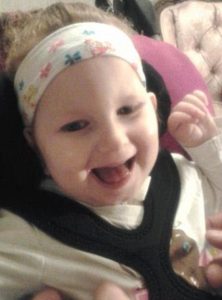 Name: Adilynn Moseman
Died: January 21, 2016.
Age at death: 5.
Cause of death: Malnutrition, pneumonia.
Location: Terre Haute, Indiana, USA.
Disability: Mitochondrial disease, microcephaly, cerebral palsy, deafblind.
Details:
Adilynn died because her parents starved her to death. At five years old, the little girl weighed just under 17 pounds. She had six- and seven-year-old siblings who were forbidden to play with her. She died of malnutrition and pneumonia.
Case status:
Tiffany Daugherty (Mother), pleaded guilty to neglect and reckless homicide, sentenced to 15 years.
Brian Moseman (Father), pleaded guilty to neglect of a dependent resulting in death, given two 2 1/2-year suspended sentences, returned to prison after violating parole by drug possession.
Source:
Father in child-death case back in jail on probation, drug charges
Man sentenced to probation in connection to child starvation death arrested on meth charges
Indiana woman who starved daughter to death says 15-year sentence is 'inappropriate'
Indiana court upholds mother's 15-year term in neglect death
Despite early intervention, little girl died among neglect allegations
Vigo County couple arrested on neglect charges after death of 5-year-old girl who weighed 16 pounds
Vigo County Couple Face Charges After Five Year Old's Death
Vigo Co. couple accused of starving 5-year-old daughter to death
Indiana couple charged with neglect in death of 5-year-old
One Parent Charged In Death Of Child Posts Bond
August trial date set in case of Terre Haute 5-year-old who died of starvation
Mother Accused In Daughter's Death Now Faces More Charges
Vigo County mother in child-death case faces new charges
Trials moved for couple arrested in connection to death of 5-year-old
Indiana mom pleas in death of disabled 5-year-old daughter
Woman accused of neglecting her child to the point of death back in jail, accused of failing to report to probation…three times
Indiana mother sentenced to 15 years in the neglect death of her disabled five-year-old daughter
Man receives suspended sentence in daughter's neglect death