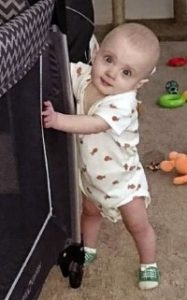 Name: Aedyn Agminalis.
Died: December 11, 2016.
Age at death: 17 months.
Cause of death: Head injury.
Location: Riverview, Florida, USA.
Disability: Chronic illness, developmental delay.
Details:
Aedyn was brought to the hospital with a severe head injury suffered while under the care of his foster mother. Doctors called it "very suspicious for non-accidental trauma". Aedyn's brain had been injured too severely for survival, and he died after life support was shut off.
Case status:
Latamara Stackhouse Flythe (Foster mother); initially charged with first-degree murder and aggravated abuse, charges dropped due to lack of evidence.
Source:
Foster mom charged in toddler's death was meant to be his lifeline
Editorial: Another child's death, another cry for help
New details emerge in case of foster mother charged in murder of Tampa-area toddler – Orlando Rising
Fatal injury occurred just minutes after child welfare worker left home, detective says
Foster mom arrested in death of boy headed for adoption
How Could You? Hall of Shame-Aedyn Agminalis case-Child Death UPDATED
Inquiry launched after infant dies in foster care in Hillsborough County – Orlando Sentinel
Toddler dies while in foster care, potential new family wants answers
Toddler in foster care Aedyn Agminalis dead just ahead of adoption by lesbian couple
Within reach of adoption, toddler dies while in foster care