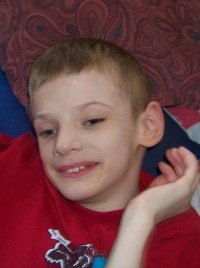 Name: Austin Anderson.
Died: August 29, 2016.
Age at death: 19.
Cause of death: Murder.
Location: Aldrich, Missouri, USA.
Disability: Autism, blindness.
Details:
Austin's mother took him out to a field in the middle of nowhere. For two days, she withheld his food, water, and medication in the summer heat while Austin begged for her help. He died from dehydration and from being refused the medication he needed to live.
Perpetrator: Kimberly R. Lightwine (Mother), pleaded guilty to involuntary manslaughter and elder abuse, sentenced to 7 years, served 2 1/2 years.
Source:
'I killed my kid:' Polk County mother charged after death of blind, autistic teen
'Let God take you': Woman said she left her blind, autistic son in field until he died, police say
Lightwine charged with two felonies in death of son
Mother Accused in Death of Disabled Son Returns to Court
Woman accused of son's death in Polk County appears in court
Attorney releases video segments of police interview with mom accused of killing her son
Bench Trial in May for Mom of Disabled Victim
Polk County mom could be out in 120 days after guilty plea in blind, autistic son's death
Polk County Woman Pleads Guilty in Connection with Death of Blind, Autistic Son
Mother pleads guilty to son's death
Mother pleads guilty to letting her blind, autistic son die in a field
Woman claims innocence in son's death despite guilty plea
Once charged with murder in autistic son's death, Ozarks woman says she's a victim