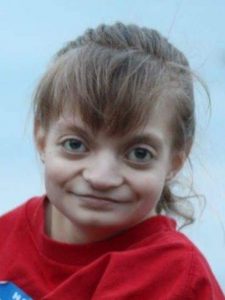 Name: Brianna Gussert.
Died: May 29, 2017.
Age at death: 13.
Cause of death: Neglect.
Location: Appleton, Wisconsin, USA.
Disability: Wolf-Hirschhorn syndrome.
Details:
Brianna was neglected by her mother, who declined help whenever she was offered it. She was kept in a filthy room, and her mother didn't let her go to school, feed her, or change her diaper. She died from sepsis due to neglect, and her death wasn't reported for five days. She weighed only 33 pounds, down from her normal weight of 50 pounds.
She was a sports fan who played baseball in a special-needs league. She enjoyed watching the Packers and the Badgers play football, and the Brewers play baseball.
Perpetrator: Nicole Gussert (Mother), convicted of child neglect resulting in death, sentenced to 17 years.
Source:
Wisconsin mom sentenced in disabled daughter's neglect death
Mom left disabled daughter, 13, in a feces-filled diaper before sepsis death
Obituary for BRIANNA L. GUSSERT – Menasha, WI
Mother arrested in death of special needs daughter
An Appleton woman arrested for the death of her 13-year-old special needs daughter
Appleton Police arrest mom for death of special needs daughter
Appleton woman arrested in death of teenage daughter
Woman Faces Neglect Causing Death Charge
Wisconsin mother charged in horrific "slow death" of disabled daughter
Brianna Gussert: Heartbreak at every turn in Appleton girl's death
No help came: Heartbreak at every turn in death of 13-year-old Brianna Gussert
Wisconsin mother charged in death of disabled daughter
Shocking case of alleged neglect: US mother charged over death of disabled daughter who 'suffered immensely'
WATCH: Disabled girl in soiled diaper died 'slow death' due to neglect
Disabled teenage daughter found in soiled nappy dies in house smelling of 'rotten food, human waste and death'
A Wisconsin Woman Allegedly Allowed Her Disabled Daughter To Die Slowly In Horrific Conditions
Girl in Appleton neglect case absent from school 162 days in final year before she died
Investigators: Appleton home smelled of "death"
Appleton mother charged in death of disabled daughter
Girl died of sepsis after mother left her sitting in excrement-filled diaper
Disabled teen neglected by mother and left to die
Teen Girl with Disabilities Suffered a 'Slow Death' from Her Mother's Neglect, Authorities Allege
'Smell In The Air Of Rotten Food, Human Waste And Death' — Wisconsin Mom Accused Of Starving And Neglecting Daughter
Court records show 13-year-old Brianna Gussert's decline over nearly 6 months
Wisconsin teen with disabilities suffered 'slow death' due to mother's neglect, authorities say
As Jessica's dad, I'm shocked by horrific death of girl with disabilities, but not surprised