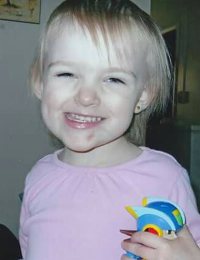 Name: Brielle Eternity Gage.
Died: November 25, 2014.
Age at death: 3.
Cause of death: Blunt force injury.
Location: Nashua, New Hampshire, USA.
Disability: Torticollis (weak neck muscles); periventricular leukomalacia; perceived as intellectually disabled by her mother.
Details:
Brielle died of head trauma with more than 50 separate injuries on her body. She had been beaten to death by her mother who, on at least one occasion, complained to the police about her daughter's "special needs".
Only months before, Brielle's mother and her boyfriend had been arrested for child abuse, but Brielle stayed in her mother's custody anyway.
Case status:
Katlyn Marin (Mother), convicted of second-degree murder, sentenced to 45 years to life.
Source:
NH Mother Sentenced To 45 Years For Killing 3-Year-Old Daughter
3-year-old Brielle Gage sustained 50 injuries prior to death
Marin told police she wanted to hold her baby after learning of daughter's death
Legal team casts doubt on key witness in Brielle Gage murder case
Nashua mom claims falls killed tot
3-Year-Old Murdered After State Returns Her To Abusive Home
Murdered child, Brielle Gage, may have been victim of battered child syndrome
Brielle Gage Memorial Foundation
This Woman Is Charged With Second-Degree Murder For Beating Her Three-Year-Old Daughter To Death. She Was Arrested Just Six Months Earlier For Abusing Two Of Her Other Children.
Justice for Brielle Eternity