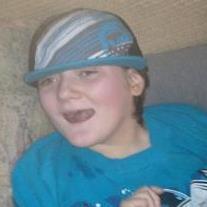 Name: Camaron Larson.
Died: November 24, 2014.
Age at death: 11.
Cause of death: Neglect.
Location: Broken Arrow, Oklahoma, USA.
Disability: Charcot-Marie-Tooth disease; Leukoencephalopathy.
Details:
Camaron died because his parents severely neglected him, leaving him untended on his bed for days at a time, not giving him his medication, and leaving him alone with just his slightly older brother to care for him.
His brother, who was thirteen when Camaron died, survived their ordeal and testified at their parents' trial.
Perpetrator: Robert McKay (Father), convicted of child neglect; Sarah McKay (Mother), convicted of child neglect.
Source: Jury Recommends Life For Tulsa Couple Convicted In Death Of Son
Tulsa child death report shows history of calls to authorities
Review of the Death of Camaron Larson
Camaron Larson Obituary