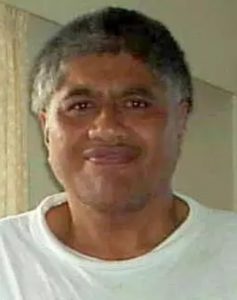 Name: Bruce Tau Rangitutia.
Died: December 8, 2015.
Age at death: 55.
Cause of death: Head injury, pneumonia, starvation.
Location: Tokoroa, North Island, New Zealand.
Disability: Cerebral palsy, intellectual disability.
Details:
When Bruce's mother died, he went to live with his brother and sister-in-law, who abused and neglected him. He shrank to 45.7 kilos and was hospitalized after entering a coma. After being stabilized, he was supposed to go to a rehabilitation facility; but his brother and sister-in-law refused this once they realized they would no longer receive money for caring for him; so he went back to live with them. They went right back to neglecting him, including denying him his regular medication. Confined to bed because of malnutrition and unexplained injuries from blunt-force trauma that were likely caused by abuse, he was unable to get food for himself, and his caregivers ignored his cries for food and water. He died of a combination of head injury, pneumonia, bedsores, and starvation.
Case status:
Jovander Raymond Terry (Adoptive brother), pleaded guilty to ill treatment of a vulnerable adult, sentenced to 6 years 7 months.
Annie Mathews (Sister-in-law), pleaded guilty to ill treatment of a vulnerable adult and failing to seek medical care, sentenced to 4 years 10 1/2 months.
Source:
A Tokoroa couple have been jailed after starving a man with cerebral palsy to death – 23-Sep-2019 – NZ Law and Order news
Vulnerable man who drank own urine spends last hours 'constantly moaning and calling for food and water'
Vulnerable man starved by carers died weighing 6st after begging for food
Tokoroa couple admit starving man with cerebral palsy before he died
View Bruce RANGITUTIA's Notice on nzherald.co.nz and share memories