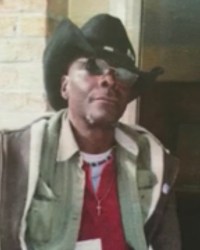 Name: Cedric Page.
Died: June 25, 2016.
Age at death: 53.
Cause of death: Murder.
Location: Durham, North Carolina, USA.
Disability: Mobility impairment; wheelchair user, disabled veteran.
Details:
Cedric was stabbed to death by his girlfriend, who was angry that he wanted her to get help for her drinking problem.
Perpetrator: Elena Khanberg (Girlfriend), charged with murder.
Source:
Neighbors feared for safety of murdered handicapped Durham man
Durham woman charged with murder in death of handicapped roommate
Durham woman charged with murder was covered in blood of handicapped victim, warrant shows
Durham woman indicted on murder charge in man's death
Elena Khanberg
NC woman indicted in death of handicapped roommate