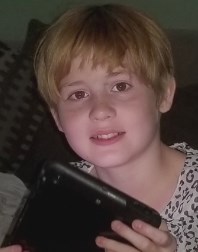 Name: Chloe Renee Hobbs.
Died: June 9, 2018.
Age at death: 11.
Cause of death: Neglect.
Location: Elkhart, Indiana, USA.
Disability: Autism, pica.
Details:
Chloe had one sister, who was a year younger than her and also autistic. Chloe had pica, which meant she tended to eat things that weren't food and needed to be watched so that she wouldn't eat anything dangerous.
Her father took her and her sister along with her when he went to stay at a house where he and his girlfriend were doing some maintenance work while the owner was away. The house was extremely cluttered and dangerous, but the girls were left unattended there. Her father's girlfriend had also brought along her methamphetamine stash, which she left where Chloe could get to it.
Chloe found the meth, ingested it, and got very sick. She spent the night vomiting, but no one called for help until Chloe stopped breathing the next morning. She could not be revived.
At autopsy, it was found that Chloe, in addition to the methamphetamine poisoning, had a bowel obstruction caused by her having eaten wood, plastic, pennies, and other items while unsupervised.
Perpetrator: Brandon Hobbs (Father), pleaded guilty to neglect of a dependent, sentenced to 3 years; Erica Reschke (Father's girlfriend), charged with neglect of a dependent resulting in death, sentenced to 13 years in prison and 3 years probation.
Source:
Michigan woman sentenced for death of child with special needs
Three-year prison sentence handed down in death of child who had meth in her system
Elkhart County prosecutor says girl, 10, ingested meth before death
2 charged after child dies with high levels of meth in her system
Michigan couple charged in autistic girl's death
Court document: Meth contributed to autistic child's death
Obituary of Chloe Hobbs | Brown Funeral Home & Cremation Services