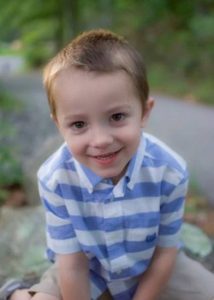 Name: Christopher Kenneth "CK" Bosselman.
Died: May 3, 2018.
Age at death: 5.
Cause of death: Murder.
Location: Waterford, Connecticut, USA.
Disability: Autism.
Details:
Christopher, who went by CK, had to live in filthy conditions at home. He was five years old when his mother locked him in her car on a warm day. CK died of heat stroke, and his mother reported him missing and tried to pass it off as an accident, but when police searched her checked her phone, they found she had been making searches on hot-car deaths.
From CK's obituary:
"CK loved Paw Patrol, especially the character Rubble. He loved coloring and singing. Some of his favorite songs were "Heaven is a place on earth" (Belinda Carlisle), 'Bad at love' (Halsey), 'Your love' (The Outfield), and 'No one' (Alicia Keys). He loved Starbucks Frappuccinos, Oreos and ice cream."
Perpetrator: Whitney Bosselman (Mother), charged with criminally negligent homicide and risk of injury to a minor.
Source:
Waterford Police: Mother arrested in connection to death of 5-year-old son found in hot car
PD: 5-year-old boy found dead inside car in Waterford
Warrant: Mom Made 'Concerning' Phone Searches Before Son Died
Police: Waterford child who died in mother's car lived in deplorable conditions
Police: Mom made 'concerning Google searches' before autistic son's hot car death
Waterford Police Charge Mother of 5-Year-Old Boy With Autism Who Died In Hot Car
Christopher Kenneth Bosselman Obituary – Uncasville, CT