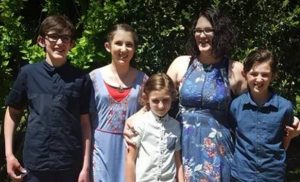 Name: Taye Cockman.
Age at death: 13.
Name: Rylan Cockman.
Age at death: 12.
Name: Arye Cockman.
Age at death: 10.
Name: Kadyn Cockman.
Age at death: 8.
Died: May 11, 2018.
Cause of death: Multiple murder-suicide.
Location: Margaret River, Western Australia, Australia.
Disability: Autism; Rylan also had chronic pain.
Non-disabled victims: Cynda Miles, age 58; Katrina Miles, age 35.
Details:
Arye, Kadyn, Rylan, and Taye were all killed by their grandfather in a mass murder-suicide. Their mother and grandmother were murdered in the same event.
The family lived on a farm, where the four children were home-schooled, and were working on making the farm self-sustaining. They grew vegetables and even built their own dam.
The four children all kept journals, and Taye, the oldest, was becoming an accomplished writer. All the children were working on learning to swim.
Perpetrator: Peter Miles (Grandfather).
Source:
'Such lovely people': Community in shock at WA murder-suicide
Inside remote farmhouse seven people shot dead in Osmington, Australia
PICTURED: The family who live at the 'mass murder-suicide farmhouse'
Margaret River Tragedy: 7 Dead In Suspected Murder-Suicide In Western Australia
Mum and four 'autistic' kids among seven dead in Australia 'mass-murder suicide'
Four autistic children and their mother among seven found dead in Australia
Police continue probe into WA murders
Grandfather suspected of murder-suicide in Australia family massacre
Tributes for family in Margaret River suspected murder-sucide
'We are devastated': Grandparents, mother and four children killed in murder-suicide in Australia
Who is Peter Miles, what happened in Osmington and how is the granfather linked to the murder-suicide shooting?
Grandparents, mom and kids shot dead in Australia murder-suicide
Western Australian police say seven shooting deaths were murder-suicide
Grandad kills wife, daughter and FOUR autistic grandkids, then himself
Cops investigating whether gun owning grandfather was behind murder of 7
Tributes for family murdered in rural WA
Who were the family killed in the Margaret River mass shooting?
Three guns found at scene of murder-suicide belonged to grandfather
Mom and 4 Children With Autism Among 7 Victims of Australian Murder-Suicide — and Grandfather Is Suspect
The grandfather suspected of shooting seven family members
Pictured: Mum and Four Children Killed In 'Murder Mass Suicide'
Osmington massacre suspect is four dead autistic children grandfather
'He didn't snap, he planned this'
The mystery of the Miles family and a murder-suicide that shocked the world
Osmington murder-suicide suspect, grandfather Peter Miles, sounded vague' day before worst mass shooting in Australia for 22 years
Peter Miles: Margaret River grandfather had 'sense of failure'
'Sense of failure' led to WA farm murders
Bloodshed in Australia: Grandfather suspected of gunning down his wife, daughter, and four autistic grandchildren
Grandad 'planned the mass-shooting of my four children,' devastated dad says
Margaret River, WA shooting: Father of murdered children speaks out
Dad Whose 4 Children with Autism Died in Murder-Suicide Says Kids' Grandfather Planned Attack
My family was ripped apart by violence – and the killer was not a 'good bloke'
Father of children killed in suspected murder-suicide claims grandfather planned the deadly shooting
Grandfather Suspected of Killing 6 Relatives Battled Depression After Son's Suicide, Friend Says
Margaret River Massacre, Peter Miles, Katrina Miles
Australian feminists deny mental health crisis behind Margaret River murder-suicide
Margaret River community calls for support after mass murder
Margaret River shooting: Katrina Miles' friends, community want better mental health