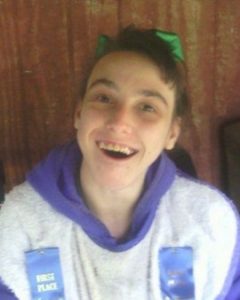 Name: Cyra Shantell Marie Harrison.
Died: November 23, 2018.
Age at death: 25.
Cause of death: Neglect.
Location: Elizabeth, Louisiana, USA.
Disability: Cerebral palsy.
Details:
Cyra died from neglect after being forced to live in terrible conditions by her mother and two housemates.
The first-place ribbons she is wearing in her picture may be bowling ribbons, a sport Cyra enjoyed.
Perpetrator: Karen Johnson Harrison (Mother); Marilyn Sue Maricle, and Glen E. Maricle (Housemates); all charged with second degree murder, conspiracy to commit second degree murder, cruelty to the infirmed, and cruelty to a juvenile.
Source:
Mother accused in daughter's death denied release from jail
Attorney makes bid for sanity commission, trial delay in neglect-death case
Trial for Karen Johnson Harrison, accused in daughter's death, moved to June 2020
Mom of Rapides neglect-death victim to face trial first
State will prosecute mother of neglected daughter first in Rapides murder case
2 defendants in neglect death case reject offers of life sentences
3 accused in Elizabeth woman's neglect death to be arraigned next week
Arrests made after special needs patient died, found in deplorable living conditions
Sheriff: Extreme neglect leads to death of special needs person
Mom, couple charged in death of Elizabeth special-needs patient
Arrests made after special needs patient died, found in deplorable living conditions
Elizabeth woman who died from alleged neglect identified
Police release identity of woman killed
Authorities ID special-needs woman believed slain by neglect
Prosecutor intends to seek bond increase in 'heinous' neglect death case
Cyra Harrison Obituary
Court dates set for 2 in case of Elizabeth woman's neglect death
Rapides grand jury indicts three in the murder of woman with cerebral palsy
Arraignment set for three charged with murder of woman with cerebral palsy
3 accused in Elizabeth woman's neglect death plead not guilty