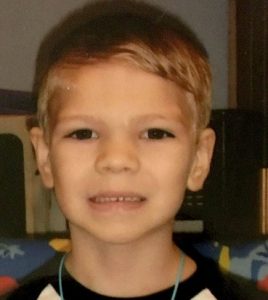 Name: Dayvid Pakko.
Died: October 17, 2017.
Age at death: 6.
Cause of death: Murder.
Location: Lynnwood, Washington, USA.
Disability: Autism.
Details:
Dayvid was drowned in the bathtub by his uncle.
He was "smart as a whip" and loved playing with Legos.
Perpetrator: Andrew Henckel (Uncle); charged with first-degree murder.
Source:
Police: Man admits to drowning 6-year-old Washington boy, leaving body in dumpster
Relative of 6-year-old Lynnwood boy arrested for murder
Police: 19-year-old family member confesses to drowning 6-year-old Lynnwood boy
Body Of Missing 6-Year-Old With Autism Found In Dumpster, Teen Relative Arrested
6-Year-Old Missing Washington Boy's Body Found In Dumpster, Relative Confesses To Murder
Body of missing autistic boy found stuffed in dumpster; teen relative in custody
19-year-old arrested after 6-year-old Lynnwood boy found in dumpster
Cops: Teen uncle confessed to drowning autistic boy in bathtub
New documents reveal no motive in horrendous murder of 6-year-old Lynnwood boy
Kerrville man accused of killing nephew: 'I did not do this'
Cops: Uncle confessed to drowning autistic boy in bathtub
Teen accused of drowning 6-year-old Lynnwood boy held on $1 million bail
Police: Family member admits to drowning boy, 6, with autism
Bail set at $1 million for 19-year-old man accused of murdering 6-year-old nephew