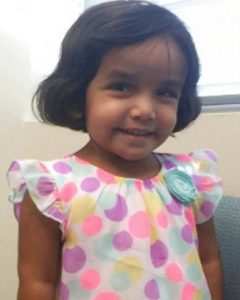 Name: Sherin Mathews.
Died: October 22, 2017 (Body found); died October 7, 2017.
Age at death: 3.
Cause of death: Choked.
Location: Dallas, Texas, USA.
Disability: Developmental disability, failure to thrive.
Details:
Sherin's adoptive father claimed she had been adopted from India with developmental delays, malnutrition, and an "eating disorder". When he brought her to the hospital with broken bones, he claimed that she had brittle bones from being malnourished at the orphanage.
Her adoptive father was trying to force her to drink milk at 3 a.m., and choked her to death doing it. He then dumped her body and pretended she had gone missing, before eventually confessing to the killing. The autopsy confirmed that Sherin's cause of death was "homicidal violence".
Later, the orphanage came forward and reported that Sherin had not had trouble eating. Her "eating disorder" may have been a fabrication to cover up her murder. She was merely small for her age, a condition called "failure to thrive" which is common in children with difficult backgrounds. The broken bones she had suffered months before her death had nothing to do with malnutrition and everything to do with child abuse.
Case status:
Wesley Mathews (Adoptive father), pleaded guilty to injury to a child by omission, sentenced to 30 years to life.
Source:
Wesley Mathews, Accused of Killing Girl, 3, Pleads Guilty to Lesser Charge
Sherin Mathews death: Foster dad pleads guilty to lesser charge
Man gets life sentence in 3-year-old daughter's death
Capital murder trial set to begin for 'dad' who claimed he locked slain tot outside at 3 a.m. for not drinking her milk
Sherin Mathews abandoned in India before alley abandonment that may have led to death
A father reported his 3-year-old missing. Then he told police he'd watched her die.
Texas dad admits disposing of child's body, affidavit says
Father of Sherin Mathews says he watched as his 3 year old child choked on milk and died
'Sherin Mathews didn't have developmental disability'; foster father on suicide watch in jail
Mother Of Girl Who Allegedly Died Drinking Milk Arrested For Leaving Her Alone And Going Out To Dinner
Sherin Mathews Was Being Abused Months Before Her Death, Pediatrician Told Child Protective Services
Autopsy Reveals 3-Year-Old Sherin Mathews Died from 'Homicidal Violence'
Sherin Mathews Update: Slain AMBER Alert toddler died from 'homicidal violence'
Sherin Mathews died from 'homicidal violence,' autopsy finds
U.S. Adoption Agency Banned from India Following Death of Toddler Sherin
Father charged with murder in death of 3-year-old Indian girl
Texas father charged with murder in death of Indian orphan
Father Charged in Murder of 3-Year-Old Adopted Orphan Sherin Mathews
TX dad charged with capital murder in death of 3-year-old
Who Is Wesley Mathews? Sherin Mathews' Father Charged With Missing Texas Toddler's Murder
BREAKING: Death Penalty for Sherin Mathews' Father? Wesley Mathews Indicted on Capital Murder Charge
Wesley Mathews charged with CAPITAL MURDER in death of adopted toddler, Sherin Mathews
Texas father charged with murder in death of Indian orphan
Sherin Mathews case: Father who claimed girl choked on milk charged with murder
Texas father charged with murder in death of daughter adopted from Indian orphanage
Wesley Mathews Allegedly Used 'Deadly Weapon' to Kill Daughter Sherin Mathews
New Texas Law Inspired by Three-year-old Toddler Sherin Mathews' Death
Bond reduced for Richardson man accused in death of his adopted daughter
In Sherin Mathews' Death Case, Foster Parents To Be Tried Separately