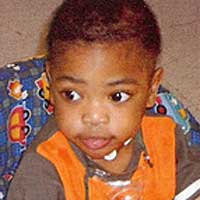 Name: Deondray "Dooley" Ashe.
Died: June 14, 2010.
Age at death: 2.
Cause of death: Beating.
Location: Lakeland, Florida, USA.
Disability: Chronic bilateral subdural hematoma, cerebral palsy, developmental delays, tracheotomy.
Details:
Dooley's stepfather beat him to death during potty training.
Case status:
Marcus Brown (Stepfather), pleaded guilty to manslaughter, sentenced to 12-and-a-half years.
Ina Brown, convicted of aggravated manslaughter, sentenced to 10 years.
Source:
Deondray Ashe Obituary (2010) Tampa Bay Times
Innocents Lost: In prison for manslaughter, a mom deals with regret, denial
Prosecutor Calls 2-Year-Old Deondray Ashe Beating 'Horrifying'