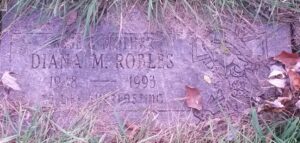 Name: Diana M. Robles.
Died: April 18, 1993.
Age at death: 44.
Cause of death: Stabbed.
Location: Bartlett, Illinois, USA.
Disability: Mobility impaired due to polio; used crutches.
Details:
Diana's son offered his classmate $100 to kill her and her husband Peter. Her son held her down while the other man stabbed her to death.
Case status:
Eric Robles (Son), sentenced to 1oo years.
Sean Helgesen (hired killer), sentenced to 90 years.
Source:
ROBLES SENTENCED TO LIFE
Appellate court upholds 90-year sentence for Bartlett double murder by teen
Diana M. Robles (1948-1993) – Find A Grave
People v. Helgeson, 2020 IL