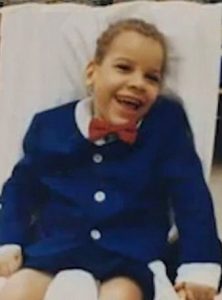 Name: Trevor Horn.
Died: March 3, 1993.
Age at death: 8.
Cause of death: Hypoxia; ventilator disconnected.
Location: Montgomery County, Maryland, USA.
Disability: Quadriplegic, intellectually disabled.
Details:
In an attempt to collect the money that was going toward Trevor's care, Trevor's father hired a hit man to kill him. The hit man disconnected Trevor's respirator, and then shot his mother, Mildred Horn, and his overnight nurse, Janice Saunders. Trevor's two sisters, who had been out of the house that night, survived.
Case status:
Lawrence Horn (Father), convicted of murder, sentenced to life without parole.
James Edward Perry (Hit man); convicted of murder, sentenced to death.
Source:
Lawrence T. HORN
Father arrested in 3 murders
The chilling story of how a book by a cash-strapped mum from Florida is behind a triple murder