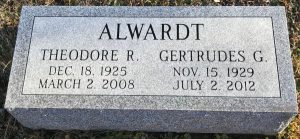 Name: Gertrudes Marcaida "Gigi" Alwardt.
Died: July 2, 2012.
Age at death: 82.
Cause of death: Murder.
Location: East Poultney, Vermont, USA.
Disability: Chronic illness (elderly disabled).
Details:
Gigi was bludgeoned to death by her son, who struck her head against the table and then beat her with a wine bottle. Initially he claimed she had fallen; then he said he had done it because he thought she was possessed. In reducing the charge from murder to manslaughter, the judge noted that the killer was mentally ill and was "stressed" by caring for Gigi, whose health had been failing.
She had worked as a secretary for the Phillippine government, and had traveled the world during her lifetime. She enjoyed reading.
Perpetrator: Roderick Geronimo (Adoptive son), pleaded guilty to manslaughter, sentenced to 8-15 years in prison.
Source:
Man admits beating his mother to death with wine bottles
Obituary for Gertrudes Marcaida "Gigi" Alwardt
Adoptive son charged with killing mother
Man admits killing mother
Man who thought mom was possessed pleads guilty in her death
Poultney man who beat his mother to death gets eight years