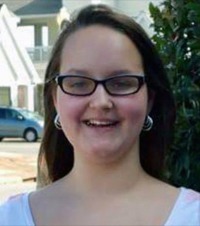 Name: Grace Anastasia Packer.
Died: July 11, 2016 (Reported missing); October 31, 2016 (Body found).
Age at death: 14.
Cause of death: Murder.
Location: Quakertown, Pennsylvania, USA; Abington Township, Pennsylvania, USA.
Disability: Learning disability; mother claimed emotional/behavioral.
Details:
Grace and her twelve-year-old brother were both adopted into the same family. Her favorite colors were purple and light pink, and she loved flowers. She liked to help the special-needs students at her school.
When Grace disappeared, her mother said that she had stolen money and run away; then she did her best to stymie the police investigation and kept cashing Grace's disability checks. Eventually, she brought out a forged letter she said was from Grace; the letter apologized for "being a burden".
Grace's body was found months later; she had been murdered. Grace had been beaten, poisoned, and raped by her mother's boyfriend before finally being choked to death. Her body was dismembered and the parts scattered. Her mother watched and assisted in the killing.
Her mother said she had "behavioral problems" and an "emotional disorder" in order to portray Grace as an emotionally disturbed runaway, and she received disability payments to care for Grace as an adopted disabled child.
Perpetrator: Sara Packer (Adoptive mother), pleaded guilty to murder, sentenced to life in prison; Jacob Sullivan (Mother's boyfriend), convicted of murder, sentenced to death.
Source:
Ex-foster kids claim abuse was routine
Horrific details emerge in case of 14-year-old girl killed in 'rape-murder fantasy'
Teen slain in 'rape-murder fantasy' was friend to the lonely
Memorial for Murdered Montco Teen Grace Packer
Missing Abington teen found slain
Murdered teen's mom kept disappearance from family, authorities say
Missing teen found dead, mother charged in disappearance
Missing Montco teen found dead, dismembered in Luzerne County; mom ID'd as 'person of interest'
Missing Pa. teen was found dismembered; adoptive mom called "person of interest"
Missing teen's dismembered remains found, mom charged in disappearance
DAs: Missing Montco teen slain; mother 'of interest'
Missing Abington teen found dead
Dismembered teen's stepmum arrested
Missing Abington teen's dismembered remains found
Abington police seek info on missing teen
Mother's boyfriend charged in murder of Abington teen
Pennsylvania Couple Raped, Killed, and Chopped Up Disabled Adopted Daughter, Police Say
Mother, boyfriend charged in teen girl dismemberment Mother and boyfriend charged in Abington teen's murder
Mom, boyfriend charged in Pennsylvania teen girl's dismemberment death
Police: Mom helps boyfriend rape, kill, dismember her daughter
Mum and boyfriend 'raped and dismembered adopted daughter in dark sexual fantasy'
Mother and her boyfriend charged in murder of Pa. teen
Mom, boyfriend charged in teenage girl's dismemberment death
DA says teen killed as part of mom's 'rape-murder fantasy' with boyfriend
Bucks DA: Rape, murder of Grace Packer 'heinous,' 'depraved'
Jacob Sullivan Criminal Complaint
Facebook: In Memory of Grace Packer
READ: Police criminal complaint against Grace Packer's mother for alleged child endangerment
Polaneczky: Montco moms step up to honor brutalized girl
Mom accused in daughter's rape, murder, dismemberment was child welfare worker
Mom accused in teen's dismemberment was child welfare worker
Mom, boyfriend charged in teenage girl's dismemberment death
'Heartbroken' Community Plans Services For Teen Allegedly Killed By Mother In Bucks County
Murdered Teen's Mum And Her Boyfriend Accused Of Carrying Out Vile Fantasy
Grace's Horror: Adoptive mother and her boyfriend charged in teen's brutal murder
Grace Packer's Mother Charged With Murder in Gruesome Death
Police Search Home of 3rd POI in Teen Girl's Murder
For birth mother, Grace Packer homicide is second heartbreak
Police Search Home of 3rd POI in Teen Girl's Murder
Police return to Sara Packer and Jacob Sullivan's home
For birth mother, Grace Packer homicide is second heartbreak
Adoptive mother facing more charges in Grace Packer killing
Pennsylvania mom gets life in prison for murder, dismemberment of daughter
Caseworkers missed 'red flags' before teen's brutal death