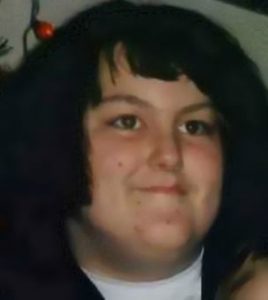 Name: Margaret Fleming.
Died: Reported missing October 28, 2016. Probably died between December 18, 1999 and January 5, 2000.
Age at death: 35 (when reported missing; most likely 19 at death).
Cause of death: Missing, presumed dead; probable murder.
Location: Inverkip, Inverclyde, Scotland.
Disability: Intellectual disability.
Details:
Margaret was last seen alive at a family gathering on December 17, 1999. At the time, she was staying with a couple who served as her caregivers. For many years, her caregivers pretended she was alive and that they had heard from her, while they pocketed her disability allowance.
Seventeen years after she disappeared, with Margaret required to appear for a benefits assessment, her caregivers finally reported Margaret missing. Though they claimed they had seen her, no one else had. After detectives investigated, Margaret's housemates were arrested for tying her up, bludgeoning her to death, and dumping her body. They had apparently held her hostage for two years before her death, tied up and locked in a room.
Margaret's body has not been found. When she was last seen, she was "around 5ft 5 inches in height, with collar length black hair and brown eyes… of heavy build… wearing a green coloured tartan fleece or jumper, dark coloured jeans or trousers, wearing [dark] 'Karrimor' type boots… had a satchel-type handbag." Anyone who knows anything about Margaret's disappearance and death is encouraged to call the Inverclyde police department.
She attended a local college, but had never worked.
Perpetrator: Eddward Cairney and Avril Jones (Unrelated housemates/caregivers), both convicted of murder and sentenced to 14 years.
Source:
Margaret Fleming inquiry postponed by council
Independent inquiry into murder of Margaret Fleming to begin
Carers jailed for murdering teenager
Bogus carers who murdered vulnerable teenager Margaret Fleming sentenced to life in prison
Carers guilty of murdering missing teenager
Carers accused of murdering missing disabled woman claim she is still alive
Margaret Fleming murder accused carers Eddie Cairney and Avril Jones set for High Court
Missing woman still alive, claim carers
Carers of vulnerable woman not seen since 1999 accused of murder
Missing woman Margaret Fleming was not in control of her bank cards
Missing Person, Margaret Fleming – Inverkip – Police Scotland
Carers of missing Margaret Fleming 'murdered her and claimed benefits'
Carers detained over disappearance of Inverkip woman not seen in 18 years
Couple claim that missing Margaret ran away in fear
Carers due in court over disappearance of Inverkip woman not seen since 1999
Renfrewshire couple face High Court accused of murdering Margaret Fleming, who 'vanished' 18 years ago
Margaret Fleming murder accused left without wheelchair
Murder accused 'swore at police officers'