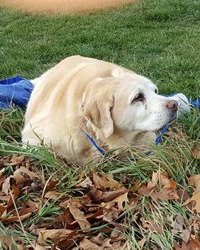 Name: Gregory Alan Cortis.
Died: December 12, 2015.
Age at death: 68.
Cause of death: Blunt force trauma.
Location: Milford, Michigan, USA.
Disability: Alzheimer's; stroke, causing memory loss and speech impairment.
Details:
Gregory's wife beat him and his dog Carley with a crowbar, believing that they were both old and ill and it was "time for them to pass on".
Gregory died after some time in the hospital. Carley, 11 years old and severely injured, recovered and was adopted by a new owner, but died of old age early in 2016.
Gregory's wife claimed she had killed her husband and beaten the dog to "end their suffering".
Case status:
Yvonne Cortis (Wife), pleaded guilty to second-degree murder and torturing an animal, sentenced to 22-50 years in prison.
Source:
Milford man dies of injuries from crowbar attack
Man Beaten with Crowbar Dies; Murder Charges Expected
Milford woman charged with beating husband, dog with crowbar
Carly the Labrador – An Update
Woman pleads guilty to beating husband and dog to death with metal rod