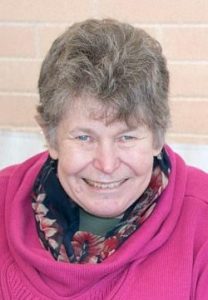 Name: Helen Dansie.
Died: April 16, 2017.
Age at death: 67.
Cause of death: Murder.
Location: Adelaide, South Australia, Australia.
Disability: Stroke.
Details:
Helen's husband picked her up from her nursing home, went to a park, and pushed her into a pond, where she drowned. He believed she had become a burden to him, and had taken out a life insurance policy on her four days prior.
She was a retired microbiologist. At the nursing home, she liked playing chess and doing crossword puzzles.
Perpetrator: Peter Rex Dansie (Husband); charged with murder. First trial ended in mistrial; second trial ended in conviction for murder. Sentenced to 25 years.
Source:
Killer who pushed wife's wheelchair into pond loses appeal
Real life: My dad staged my mum's murder as an accident
Lawyer for wife-killer Peter Dansie compares his murder conviction to George Pell case
Man killed wheelchair-bound wife by pushing her into pond
Adelaide man guilty of murdering wife who drowned in pond
This is what accused Adelaide wife-killer Peter Rex Dansie told police on the day his wife died
'Suitcase full of condoms': Adelaide murder accused bought ticket to China
Alleged wife killer replied 'no comment' when son asked about her death
Dansie to face new murder trial in October
Disabled woman's husband 'carefully planned her murder'
Husband charged with murder of wheelchair-bound wife found in pond
Murder charge
Man charged with murder of wife who drowned in Adelaide pond
Wheelchair-bound wife drowned in 'planned attack'
Husband charged with murder of wheelchair-bound wife
SA man charged over Adelaide pond death
Husband charged with his wheelchair-bound wife's murder
Tiny pond where a wheelchair-bound woman was mysteriously found dead
Veale Gardens pond drained as police investigate Helen Dansie's death
Wheelchair drowning death unexplained, despite autopsy, police say
Detectives return to scene of pond death
Pond death: 'Of course it was an accident'
Twist in parklands pond death mystery
Man accused of drowning wife had allegedly searched internet for 'cheap funerals'
Man accused of pushing disabled wife into pond pleads not guilty to murder
Man accused of drowning wheelchair-bound wife fronts court
Man charged with drowning wheelchair user wife in Adelaide pond to face trial by judge
Husband 'pushed wife's wheelchair into pond for insurance pay-out'
Man accused of drowning wife seemed 'unfazed' when paramedics arrived, court hears
Man, 70, accused of drowning disabled wife in pond after she 'became a burden'
Man accused of drowning wife with disabilities saw her as a 'cost burden', court hears