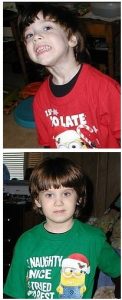 Name: Jaden Webb.
Name: Jorden Webb.
Died: April 4, 2019.
Age at death: 8.
Cause of death: Murder.
Location: Tucson, Arizona, USA.
Disability: Autism.
Details:
Jaden and Jorden, twin brothers, were shot dead by their grandmother.
Perpetrator: Dorothy Flood (Grandmother), pleaded guilty to two counts of manslaughter, sentenced to 21 years.
Source:
Tucson grandma sentenced to 21 years for killing grandsons with autism
Grandmother pleads guilty to murdering autistic grandsons
Arizona Woman Indicted in Deaths of Twin Grandsons
Grandmother arrested in deaths of 8-year-old Tucson twins
Grandmother charged with murdering autistic grandsons
Tucson woman admits to shooting her twin autistic grandsons
Arizona woman shot dead her orphaned, autistic 8-year-old twin grandsons, then tried to kill herself by overdosing
Twin Boys With Autism Fatally Shot by Arizona Grandmother, Who Tried to Kill Herself: Court Docs
Court documents: Tucson woman admits to shooting, killing twin grandsons
Police: Woman admitted to killing special needs grandsons
Ariz. woman charged with killing 2 grandchildren with autism
Court documents offer background on killing of twin grandsons
Arizona woman indicted in deaths of twin grandsons