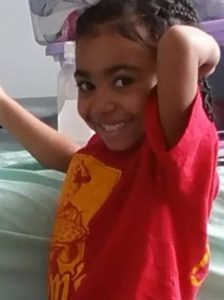 Name: Sarah Dubois-Gilbeau.
Died: April 5, 2019.
Age at death: 5.
Cause of death: Abuse.
Location: Albuquerque, New Mexico, USA.
Disability: Autism.
Details:
Sarah was beaten to death by her father because she refused to do her schoolwork. Her mother says that her father refused to accept she was autistic.
Sarah liked acting out movie scenes and reading Lego Ninjago comic books.
Perpetrator: Brandon Reynolds (Father), charged with child abuse resulting in death.
Source:
Mom says 5-year-old allegedly killed by father had autism
New Mexico father beat daughter, 5, to death after she refused to do homework: cops
Mother of murdered little girl says she was autistic, claims dad who beat 5-year-old to death over homework 'couldn't deal' with diagnosis
Dad 'battered autistic girl, 5, to death with shoe for refusing to do homework'
Father is arrested for allegedly beating 5-year-old autistic daughter to death with shoe for refusing to do homework