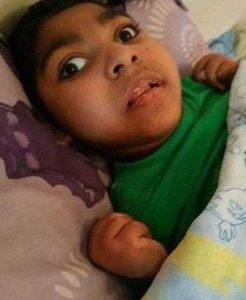 Name: Jalen Goldsborough.
Died: September 2, 2018.
Age at death: 13.
Cause of death: Neglect.
Location: Hopewell, Virginia, USA.
Disability: Shaken baby syndrome; required 24-hour care.
Details:
Jalen was abused by his father when he was a baby. He survived and his father went to prison, but Jalen was left with severe disabilities.
At 13, Jalen was found starved to death. His mother and her boyfriend were arrested.
Perpetrator: Amy FaJohn (Mother), pleaded no contest to second-degree murder; Anthony Saunders (Mother's boyfriend), pleaded guilty to child neglect.
Source:
Starved teen weighed 24 lbs at time of death, mother pleads no contest to murder
Mother Pleads Guilty in Starvation Death of Son with Severe Disability
Hopewell mother convicted of murder in starvation death of son, 13, who weighed 24 pounds when he died
Virginia mother convicted over starvation death of 13-year-old son
Medical Examiner: Murdered Hopewell teen with special needs starved to death
2 charged in death of Hopewell 13-year-old
Murdered Hopewell teen was victim of severe abuse as infant
Mother charged with murder in death of severely disabled 13-year-old