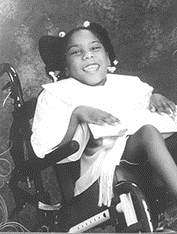 Name: Janelle Abriana Johnson.
Died: July 2, 2016.
Age at death: 5.
Cause of death: Negligence.
Location: Port Arthur, Texas, USA.
Disability: Paralyzed; wheelchair user.
Details:
Janelle's father put her in the tub for a bath; then he left the room. Janelle, who could not hold her head out of the water, drowned.
Perpetrator: Jermaine Johnson (Father).
Source:
Police investigating drowning death of 5-year-old Port Arthur girl
4-year-old drowns in bathtub in Port Arthur apartment
Special needs girl, 5, drowns in bathtub
Port Arthur child dies due to apparent drowning
Janelle Abriana Johnson