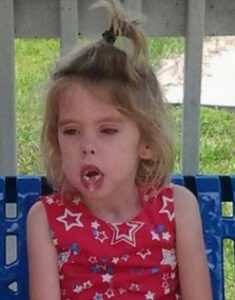 Name: Jasmine Singletary.
Died: July 13, 2021.
Age at death: 14.
Cause of death: Internal injury.
Location: Pensacola, Florida, USA.
Disability: A neuromuscular disorder.
Details:
Jasmine had been admitted to the hospital for an infection, and was alone in her room with her mother and grandmother when she was found dying of massive injuries to her ribs and liver–injuries that had not been there at admission. Police, who questioned her mother, say her mother admitted to bludgeoning her with a table after Jasmine cursed at her.
Case Status:
Jessica Bortle (Mother), charged with manslaughter.
Source:
Florida Woman Allegedly Kills Special Needs Daughter Inside Hospital Room, Rips Her Kidney Open
Mother charged with homicide of her daughter with special needs while in the hospital
Woman Killed Her Special Needs Daughter Insider Her Hospital Room, PPD Says : NorthEscambia.com
Pensacola Police: Bonifay woman killed daughter in hospital room
Mother killed special needs teen daughter inside Florida hospital room, police say