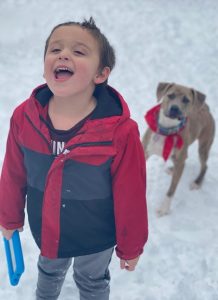 Name: Jax Ponomarenko.
Died: March 25, 2021.
Age at death: 5.
Cause of death: Beaten with baseball bat.
Location: Parma, Ohio, USA.
Disability: Autism.
Details:
Jax's father called 911, saying, "I've killed my son," and claimed he had been hearing voices. He then described how he had beaten the boy to death with a baseball bat.
Jax used a tablet to communicate.
Case Status:
Matthew Ponomarenko (Father), charged with aggravated murder.
Source:
Man Pleads Not Guilty After 911 Call Shows Alleged Confession in Baseball Bat Murder of 5-Year-Old Son
Matthew J Ponomarenko: Parma dad beats autistic son with baseball bat, calls 911: 'I'm hearing voices'
5-year-old boy killed in Parma, boy's father arrested, police say
Matthew Ponomarenko beats autistic son, Jax, 5, to death w/ baseball bat
GRAPHIC: 'I just killed my son after hearing voices,' Parma, Ohio dad tells 911 dispatcher
Ohio dad admits killing autistic 5-year-old son with baseball bat