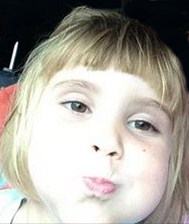 Name: Olivia Cart.
Died: October 6, 2017.
Age at death: 5.
Cause of death: Murder-suicide.
Location: Culloden, West Virginia, USA.
Disability: Unspecified special needs.
Details:
Olivia was shot to death by her mother in a murder-suicide. Her older brother, also special needs, was shot but survived; as of October 21, 2017, he is still hospitalized with severe injuries.
Perpetrator: Leah Cart (Mother).
Source: Mom, kids ID'd after murder-suicide in Culloden
Mother hopes murder-suicide is 'wake-up call' for West Virginia
Boy recovering 2 weeks after sister, mom killed