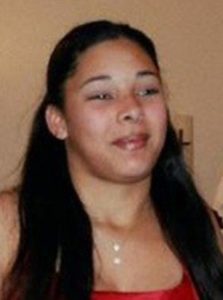 Name: Jhalandia Elaine Butler.
Died: March 5, 2017.
Age at death: 28.
Cause of death: Murder.
Location: Crofton, Maryland, USA.
Disability: PTSD, bipolar disorder (claimed by killer).
Details:
Jhalandia's boyfriend was abusive and had already been charged with assault once for choking and punching her. He murdered Jhalandia by stabbing her to death.
Jhalandia was a US Army veteran who had served for six years and two tours of duty in Iraq. She had met her boyfriend while they were both being treated for PTSD at a military hospital.
Perpetrator: Ryan Hollebon (Boyfriend), pleaded guilty to first-degree murder, sentenced to life without parole.
Source:
Iraq war veteran gets life in prison for Crofton murder of girlfriend
Jhalandia Elaine Butler, 28
Crofton veteran who pleaded to killing girlfriend appeals life sentence