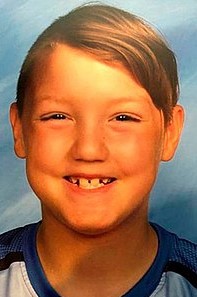 Name: Joshua Jackson "JJ" Vallow.
Died: June 10, 2020 (Body found; last seen September 23, 2019).
Age at death: 7.
Cause of death: Murder.
Location: Rexburg, Idaho, USA.
Disability: Autism.
Details:
JJ's mother and stepfather killed him and his 17-year-old half-sister, Tylee Ryan. They tried to cover up the children's deaths by claiming they were home-schooling or that the children were staying with relatives; but their grandparents became worried and asked for a welfare check and the children were declared missing. A storage locker was found, full of the siblings' possessions. Finally their bodies were found on their stepfather's property.
Perpetrator: Chad Guy Daybell (Stepfather), charged with two counts of destruction, alteration and concealment of evidence; Lori Vallow Daybell (Mother), charged with desertion and nonsupport of dependent children, resisting or obstructing officers, criminal solicitation to commit a crime, contempt of court and willful disobedience of court process or order.
Source:
Why did Lori Vallow murder her kids? A look into the terrible case
Deaths of Tylee Ryan and J. J. Vallow
Funeral for 'Cult Mom' Lori Vallow's kids 'can't be held because charred and butchered remains not released'
Documents detail horrific manner JJ Vallow and Tylee Ryan were found in Chad Daybell's yard
Brother of J.J. Vallow and Tylee Ryan Says He's 'Broken' After Remains of Idaho Children Found
Doomsday Author, Wife Set for Trial for Murder of 2 Idaho 'Zombie' Children