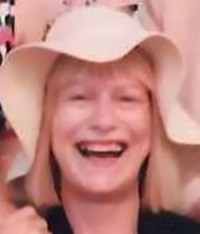 Name: Julie Anne Collier.
Died: September 5, 2015.
Age at death: 55.
Cause of death: Head trauma.
Location: Chippenham, Wiltshire, England, UK.
Disability: Mobility impairment (wheelchair user), possibly due to alcoholic neuropathy and a bad fall.
Details:
Julie's husband killed her by beating her in the head and face.
Julie was an outgoing woman whose favorite band was the Manchester pop group "Take That".
Case status:
Christopher Collier (Husband), charged with murder; pleaded guilty to manslaughter, sentenced to 4 years.
Source:
Man charged with murder in Chippenham
Police launch investigation into Chippenham woman's death
Neighbours tell of their shock as husband faces murder charge
Family tribute to Julie Collier after murder charge
Man who killed disabled wife in drink-fuelled row jailed
Man who beat disabled wife to death during argument at Chippenham home is jailed for four years
Alcoholic husband jailed for four years for bludgeoning disabled wife to death in Chippenham