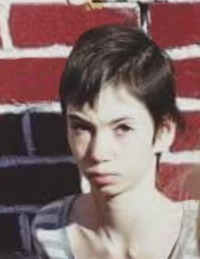 Name: Sabrina Ray.
Died: May 12, 2017.
Age at death: 16.
Cause of death: Neglect.
Location: Perry, Iowa, USA.
Disability: Unspecified.
Details:
Sabrina was tortured and starved by her family. When she died at age 16 after being drop-kicked down the stairs by her adoptive brother and subsequently starving to death, she weighed 56 pounds and looked like an eight-year-old child.
Her death may have saved the lives of her two adopted sisters, who were also abused and were rescued from the home and taken to the hospital when Sabrina was found dead.
Perpetrator: Marc Ray (Adoptive father), charged with murder; pleaded guilty to child endangerment and kidnapping, sentenced to 35 years in prison; Misty Ray (Adoptive mother), charged with child endangerment, child neglect, criminal conduct, theft, and fraud, sentenced to life in prison; Carla Bousman (Adoptive grandmother), pleaded guilty to two counts of false imprisonment, two counts of child endangerment, on count of neglect of a dependent person, one count of accessory after the fact, and one count of obstructing prosecution, sentenced to 20 years in prison; Josie Raye Bousman (Niece), pleaded guilty to neglect of a dependeent and child endangerment, sentenced to 14 years in prison; Justin Dale Ray (Adoptive brother), pleaded guilty to two counts of willful injury, sentenced to 10 years in prison.
Source:
Starved teen looked like she was an '8-year-old,' say day care visitors
Disabled Teen Drop-Kicked Down A Flight Of Stairs, Then Held Captive And Starved By Family, Including Grandma
Defenseless Adopted Teen Girl, 16, Drop-Kicked & Starved To Death In Iowa Home
Police: Brother 'drop-kicked' starved Iowa girl, grandmother helped in torture
Community mourns Sabrina's death, plans grief services
A Voice for Sabrina Ray
More Change of Venue Motions Filed in Sabrina Ray Case
New Charges Leveled at Marc and Misty Ray
Perry Fire Department Hopes Justice Is Served For Sabrina Rays' Death
Sabrina Ray case comes to a close as final family member is sentenced