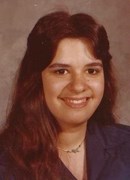 Name: Kelly Denise Barber.
Died: October 26, 2018.
Age at death: 57.
Cause of death: Head injury.
Location: Newark, Ohio, USA.
Disability: Unspecified; bedridden.
Details:
Kelly died of severe head injuries after her boyfriend headbutted her.
Kelly was a music-lover who played and composed music for the guitar. She was an outgoing woman who could always be counted on to help anyone who asked her, whether they needed food, a place to stay, or someone to go sing karaoke with them. She also liked to spend time with her grandchildren.
When she met the man who killed her, she was a widow who had lost her first husband eleven years previously.
Case status:
Brady R. Workman, pleaded guilty to involuntary manslaughter, felonious assault, and aggravated trafficking in drugs, sentenced to 18 years.
Source:
Newark man formally indicted in girlfriend's death
Newark man charged in 2018 murder of bedridden, live-in girlfriend
Newark man charged in murder of bedridden girlfriend in October incident
Obituary for Kelly Denise Barber at Criss Wagner Hoskinson Funeral and Cremation Service