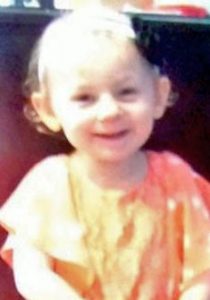 Name: Kendall Chick.
Died: December 8, 2017.
Age at death: 4.
Cause of death: Abuse.
Location: Wicasset, Maine, USA.
Disability: Developmental delay, prenatal drug exposure.
Details:
Kendall was abused by her grandmother, who was taking care of her after her parents lost custody. She died of a traumatic injury to her abdomen and blunt force head trauma.
Perpetrator: Shawna Gatto (Grandfather's fiance), convicted of murder, sentenced to 50 years in prison.
Source:
Carer who tortured disabled girl, 4, to death fails in bid to be freed from jail
Kendall Chick's caseworker had license revoked
How Maine child welfare officials assess the handling of the Kendall Chick case
Defense in murder trial points to grandfather as suspect in 4-year-old's death
Kendall Chick's short life began with neglect and ended with abuse. She left hardly a trace.
Kendall Chick died from child abuse, Maine's medical examiner says
Judge to deliver verdict in murder trial of Maine woman accused of killing 4-year-old
Monster carer battered girl, 4, to death after months of 'revolting and brutal' abuse while tot's mum battled addiction
Woman convicted of murder in abuse case that spurred state to reform its child protection system