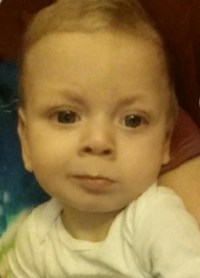 Name: Kobe Conley Shaw.
Died: March 11, 2016.
Age at death: 9 months.
Cause of death: Murder.
Location: Atlanta, Georgia, USA.
Disability: Pontocerebellar hypoplasia.
Details:
When Kobe's parents found him dead in his crib, they thought he had died because of his disability, which doctors had told them would limit his lifespan to about five years. But when toxicology testing was done, Kobe was found to have been poisoned with methamphetamine by his grandmother, who had been babysitting him that day. She initially went on the run, but was eventually arrested and charged with murder.
Perpetrator: Tonya Monroe (Grandmother), charged with murder, possession of methamphetamine, and first degree cruelty to children.
Source:
Georgia grandmother 'murders her nine-month-old grandson with a meth overdose'
In Memory of Kobe Conley Shaw
Police searching for woman accused of murdering infant grandson
Tonya Monroe, 45, of Sandy Springs, accused of killing nine-month-old grandson with Methamphetamine, finally arrested
Woman arrested in her nine-month-old grandson's overdose death