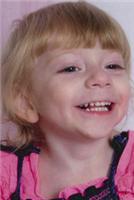 Name: Kylee Forrest.
Died: February 1, 2015.
Age at death: 4.
Cause of death: Abuse.
Location: Lubbock, Texas, USA.
Disability: Cerebral palsy.
Details:
Kylee was viciously beaten to death by her father.
Her family called her "Kylie Bug".
Perpetrator: Justin Chisum (Father), pleaded guilty to murder, sentenced to life without parole.
Source:
Chisum pleads guilty to capital murder, gets life in prison in 4-year-old-daughter's slaying
Father pleads guilty to capital murder of his 4-year-old daughter
Father Pleads Guilty For Murder of 4 Year Old Daughter with Cerebral Palsy
Kylee Forrest's Obituary on Lubbock Avalanche-Journal
In Loving Memory Of Kylee Forrest