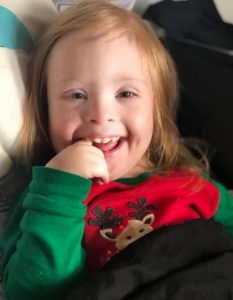 Name: Kylee Willis.
Died: March 29, 2019.
Age at death: 4.
Cause of death: Head injury.
Location: Rancho Cucamonga, California, USA.
Disability: Down syndrome.
Details:
Kylee's mother's boyfriend was babysitting for her. When she interrupted him, he allegedly beat her severely. She spent several days on life support before dying of her injuries.
Case status:
Adam Hughes (Mother's boyfriend), charged with murder.
Corrine Blake (Mother), convicted of cruelty to a child, sentenced to probation.
Source:
Save Down Syndrome: Kylee Willis
Girl, 4, with Down Syndrome 'beaten to death by mother's boyfriend'
Calif. Man Allegedly Killed Girl with Down Syndrome, 4, Because He Was Mad She Interrupted Him