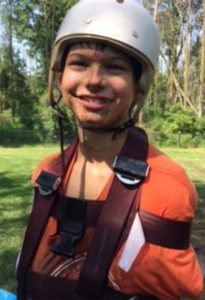 Name: Sam Koets.
Died: March 28, 2019.
Age at death: 16.
Cause of death: Drowning, hypothermia.
Location: Grand Rapids, Michigan, USA.
Disability: Autism.
Details:
Sam was made to live in the family's unfinished basement, in horrible conditions. He died when his father left him alone, hands tied, near the family's pool on a cold spring day. A little while later, he texted Sam's thirteen-year-old sister, asking her to check on Sam. She sent back a photo of Sam, wading chest-deep in the pool, which was so cold it had ice floating on top. Sam's father, however, did nothing to help Sam; he did not call emergency services, attempt to return home, or contact anyone but Sam's thirteen-year-old sister who was watching Sam die in front of her eyes. Sam's body was found floating in the icy pool; he had been dead at least an hour.
Case status:
Timothy Koets (Father), charged with involuntary manslaughter, second-degree child abuse, second-degree child abuse committed in the presence of another child and fourth-degree child abuse, pleaded guilty to involuntary manslaughter, sentenced to 2-15 years in prison.
Michelle Koets (Mother), sentenced to 21 days in jail for refilling Sam's Ritalin prescriptions after he died.
Source:
'Sam had value': Judge sentences father, former GRCC professor to 2-15 years for disabled son's drowning
Father pleads guilty in drowning death of disabled son
GRCC fires man accused of manslaughter in son's death
Mother enters plea for refilling dead son's prescriptions
Michigan man charged with involuntary manslaughter in autistic son's drowning death now accused of illegally filling teen's prescriptions
GRCC professor headed to trial in son's death
Haunting final photo shows disabled boy moments before he drowned in icy pool
Michigan dad charged after bound autistic son drowns in pool
'It's a nightmare:' Professor's arrest in death of son with severe autism rocks family
Former student shocked after professor charged in son's death
Dad Charged in Death of Teen Son Who Has Autism
Local professor faces manslaughter charges in autistic son's death
Michigan Professor Arraigned in Drowning Death of Autistic Teen Son Found in Icy Pool With Arms Bound
Father didn't alert rescuers when son with autism waded into deep, cold pool, police report says
Father charged with manslaughter in son's death
Teen with severe autism found dead in icy pool with arms bound; Michigan professor father charged
Professor facing charges in drowning death of son with special needs
Father charged with manslaughter in son's death
Georgetown Township Father Arrested After Son's Death
Professor facing charges in connection with drowning death of son with special needs