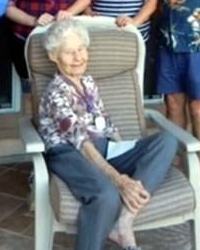 Name: Vivian Nelson.
Died: August 13, 2017.
Age at death: 94.
Cause of death: Gunshot.
Location: Corpus Christi, Texas, USA.
Disability: Dementia; frail elder.
Details:
Vivian's son took her home from the nursing home where she lived. He made her a cup of coffee, then shot her in the head.
Case status:
Leslie Charles Nelson (Son), convicted of murder, sentenced to 15 years.
Source:
Texas Man Sentenced to 15 Years in Prison for Killing Mother
CCPD: Woman, 94, found shot dead in wheelchair; son arrested
Medical examiner identifies Corpus Christi woman allegedly killed by son
Vivian Nelson Obituary
Medical examiners release name of elderly woman shot in the head
Trial set for man accused of killing wheelchair-bound mother
Leslie Nelson convicted of murder in elderly mother's death