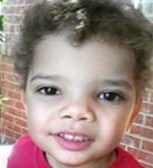 Name: Mason Bentlee Bryan.
Died: June 24, 2016.
Age at death: 4.
Cause of death: Blunt trauma.
Location: Aiken, South Carolina, USA.
Disability: Autism.
Details:
Mason liked jumping off the furniture. He watched Thomas the Tank Engine, The Lion King, and Cars, and he had a little brother named Wyatt.
Mason was beaten to death by his mother's boyfriend.
case status:
Derek Matthew Roberson (Mother's boyfriend), pleaded guilty to homicide by child abuse, sentenced to 25 years in prison.
Amanda Bryan (Mother), charged with child neglect.
Source:
Aiken man pleads guilty to abusing autistic child to death, gets 25 years
Couple charged in homicide of 4-year-old child
Mom and mom's boyfriend formally charged in 4-year-old's death
Mother, live-in boyfriend accused of killing 4-year-old in Aiken Co.
Mason Bentlee Bryan's Obituary on The Aiken Standard