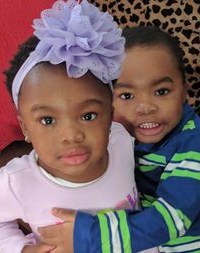 Name: Micah Gee.
Age at death: 3.
Name: Olivia Gee.
Age at death: 2.
Died: July 10, 2017.
Cause of death: Internal bleeding from blunt trauma.
Location: New York City, New York, USA.
Disability: Severe asthma.
Details:
When Olivia and Micah were found dead in their beds on the same night, they were thought to have died of asthma attacks. But on autopsy, it became clear that the brother and sister had been beaten to death.
Case status:
Jade Spencer (Mother), charged with six counts of first-degree manslaughter, six counts of second-degree manslaughter, and assault.
Source:
Bronx Mother Indicted on Manslaughter, Assault Charges in Deaths of Her Two Toddlers in 2017
Mother Charged With Manslaughter In 2017 Deaths Of 2 Bronx Toddlers
Siblings, ages 2 and 3, die after breathing trouble
Seeking answers to toddlers' death
Investigation Continues Into Deaths Of Bronx Toddler Siblings
Bronx Toddlers' Deaths Are Ruled Homicides
Deaths of toddler siblings ruled homicides
Deaths of young siblings in the Bronx ruled homicides
Bronx toddlers bled to death after savage beating
Medical Examiner Says Blunt Force Trauma Killed Young Bronx Siblings
Beaten Bronx Toddlers Died of Internal Bleeding, NYPD Says
Bronx Toddlers Were Beaten to Death, Medical Examiner Says
Toddler Siblings From The Bronx Were Beaten To Death