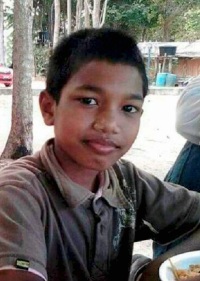 Name: Mohamad Roshamnudin Abdullah.
Died: October 19, 2016.
Age at death: 11.
Cause of death: Traumatic injury to the chest.
Location: Mersing, Malaysia.
Disability: Mentally disabled.
Details:
When Mohamad's mother brought him to the hospital, she claimed that the boy had fallen in the bathroom. But Mohamad was dead, with cigarette burns on his skin. Police arrested his mother, stepfather, and step-uncle, whom they suspect of torturing him to death.
Case status:
Roshimah Abdullah (mother), charged with murder.
Mohd Sapawi Ab Talib (stepfather), charged with murder.
Shukur Ab Talib (Step-uncle), charged with murder.
Source:
Woman charged with murder of her own mentally-ill son
Grandfather Felt Uneasy Every Time He Visited Disabled Grandson
Sent to clinic for leg injury, boy pronounced dead on arrival
Kanak-kanak OKU ditemui mati, 3 anggota keluarga ditahan
Dakwa Anak OKU Mati Di Hempap Tong Air Rupanya Didera Ibu Hingga Mati
Sayu : Dulu elok dengan bapanya .. ibu dan ayah tirinya ambil tapi depa dera hingga mati
Semoga damai di sana
Trio in court for killing handicapped son – born when mum was only 16