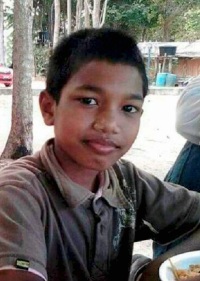 Name: Mohamad Roshamnudin Abdullah.
Died: October 19, 2016.
Age at death: 11.
Cause of death: Abuse.
Location: Mersing, Malaysia.
Disability: Unspecified.
Details:
When Mohamad's mother brought him to the hospital, she claimed that the boy had fallen in the bathroom. But Mohamad was dead; he had been tortured to death by his mother, stepfather, and brother, and there were cigarette burns on his skin.
Perpetrator: Roshimah Abdullah (mother), Mohd Sapawi Ab Talib (stepfather, and Shukur Ab Talib (brother); charged with murder.
Source:
Grandfather Felt Uneasy Every Time He Visited Disabled Grandson
Sent to clinic for leg injury, boy pronounced dead on arrival
Kanak-kanak OKU ditemui mati, 3 anggota keluarga ditahan
Dakwa Anak OKU Mati Di Hempap Tong Air Rupanya Didera Ibu Hingga Mati
Sayu : Dulu elok dengan bapanya .. ibu dan ayah tirinya ambil tapi depa dera hingga mati
Semoga damai di sana
Trio in court for killing handicapped son – born when mum was only 16