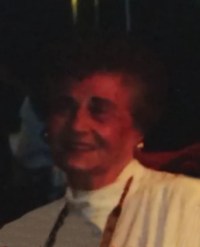 Name: Nadia Evanowicz Schaible.
Died: July 12, 2016.
Age at death: 91.
Cause of death: Murder.
Location: Parkville, Maryland, USA.
Disability: Mobility impaired; used a walker.
Details:
Nadia's cousin bludgeoned her to death, then broke a glass door panel to stage a fake burglary; police spotted the fake because the cobwebs outside the door were intact. He hoped to collect an inheritance from Nadia when she died.
Nadia was an independent woman who was known and loved by her neighbors.
Perpetrator: John Malko (Cousin), charged with first-degree murder.
Source:
Man charged with murder of 91-year-old cousin
Man, 72, charged in Parkville woman's death
Cousin Charged With Parkville Woman's Murder
Police say cousin killed elderly Parkville woman in staged burglary
Utah man charged with murder of elderly Baltimore woman