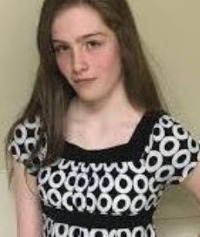 Name: Natalie Jasmine Finn.
Died: October 24, 2016.
Age at death: 16.
Cause of death: Malnutrition.
Location: Des Moines, Iowa, USA.
Disability: Reactive attachment disorder.
Details:
Natalie was one of several children, all of whom were neglected and abused by their mother. Natalie often went to neighbors' houses to ask for food and clothing.
In the last year of her life, she was taken out of school, kept at home, and starved to death by her mother.
Neighbors and classmates remember her as a gentle, kind girl who did her best to help her siblings. Her two siblings were rescued when Natalie died and were hospitalized in poor condition; when they recovered, they went to live in foster homes. It is likely that Natalie's efforts saved their lives.
Case status:
Nicole Marie Finn (Mother), convicted of first-degree murder and three counts of first-degree kidnapping, sentenced to life without parole.
Joseph Michael Finn II (Father), pled guilty to three counts of assault while participating in a felony causing serious injury, sentenced to 30 years.
Source:
Natalie Finn's father sentenced to 30 years for helping ex-wife starve children
Nicole Finn gets 3 life sentences for starving 3 of her adopted children until 1 died
Teen, siblings were tortured by parents, court documents say
Parents charged in 16-year-old's death appear in court
Court documents: Teen, siblings were tortured by parents
Teen who died had asked neighbors for food, clothes
Neighbor: Teen saw herself as siblings' protector
Memorial For Sixteen Year Old Turns Into Heartfelt Apology From Peers
Teen who starved to death found in diaper on linoleum floor, records show
Trial begins in starvation death of West Des Moines teen
Photos show filthy living conditions inside Finn household
Natalie Finn's school tried to warn the state she was in dire jeopardy, but it wasn't enough to save herNicole Finn repeatedly ignored officer, caseworker trying to see her, jurors told
Nicole Finn Murder Case: 5 Things About Mom Who Starved Daughter
Adoptive father of Iowa teen who starved to death pleads guilty