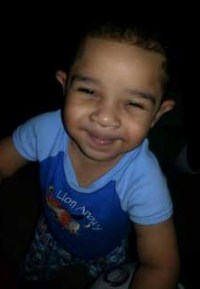 Name: Princeton Holloway.
Died: August 6, 2016.
Age at death: 3.
Cause of death: Murder.
Location: Youngtown, Arizona, USA.
Disability: Special needs (Intellectual disability?).
Details:
Princeton had three older brothers, ages 17, 16, and 4, and an older sister, age 9.
Princeton was thrown down the stairs by his 16-year-old brother, who then got a knife and began stabbing him. His 9-year-old sister came to his aid, but was hurt trying to protect him.
Princeton's 17-year-old brother managed to escape carrying his injured 9-year-old sister and 4-year-old brother, but had to leave Princeton's body behind with the killer.
Case status:
Shae Edward Holloway (Brother), pleaded guilty to murder and attempted child abuse.
Source:
Arizona man pleads guilty to killing 3-year-old brother
Investigators say teen 'brutally attacked' little brother
16-year-old accused of stabbing little brother to death identified
Arizona teen goes on a stabbing rampage injuring sister and killing his brother
Arizona Teen, 16, Allegedly Stabs 3-Year-Old Special Needs Brother To Death And Injures Sister, 9, While Mother's Away At Work
Covered in siblings' blood, teen arrested in 'vicious, horrific murder' of 3-year-old
Family in shock after teen allegedly kills 3-year-old brother
Maricopa County Sheriff Joe Arpaio: Teen arrested in fatal stabbing of toddler brother, sister near Youngtown
16-year-old jailed after murdering 3-year-old brother at Youngtown home
Officials: Youngtown teen threw toddler brother, 3, down stairs, stabbed him
Teen covered in siblings' blood arrested in 'gruesome' fatal stabbing of his 3-year-old brother
US: Teen boy accused of killing 3-year-old brother in Arizona