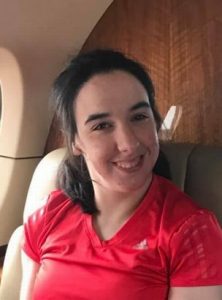 Name: Rebecca Fogel.
Died: March 26, 2019.
Age at death: 22.
Cause of death: Murder-suicide.
Location: Fort Lauderdale, Florida, USA.
Disability: Unspecified special needs, wheelchair user.
Details:
Rebecca was killed by her father in a murder-suicide.
Rebecca, an outgoing girl who liked to be around friends, was a long-standing member of the Friendship Circle of Michigan, a group for people with disabilities. Shosh Newman, a Friendship Circle member, says that Rebecca was "like a little sister" who "changed [her] life forever"; thanks to Rebecca, she decided to become a Special Education teacher.
Rebecca loved the color red. As a little girl, she wanted to name her little brother "Mr. Salt", from Blue's Clues. She grew up into an articulate young woman who talked non-stop and got standing ovations for her performances at the summer camp talent show.
Perpetrator: Andrew Fogel (Father).
Source:
Doctor, daughter with special needs die in apparent murder-suicide
Doctor, daughter with special needs die in apparent murder-suicide at Hard Rock casino