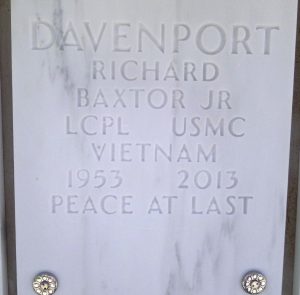 Name: Richard Baxter Davenport Jr.
Died: April 16, 2013.
Age at death: 59.
Cause of death: Blood loss.
Location: North Wilkesboro, North Carolina, USA.
Disability: Leg amputee; used a wheelchair.
Details:
Richard's neighbor, who served as his caregiver, entered his home and cut his throat, leaving him to die.
He was a military veteran who had been in the Marines.
Case status:
Coy Edward Pack (Neighbor), pleaded no contest to voluntary manslaughter, sentenced to three years and six months to five years and four months in prison
April Pack (Neighbor; Caregiver), pleaded guilty to being an accessory to murder, burglary, and armed robbery, sentenced to 5 years, 6 months to 7 years, 8 months in prison.
Source:
Coy Pack murder trial set
Husband of woman arrested earlier is also charged with murder
Davenport, Richard Baxter, Jr.
Arrest made for murder
Richard Davenport Jr., Marine veteran, dies on April 16
North Wilkesboro man found dead in his home
Eddie Pack pleads guilty to voluntary manslaughter
April Pack is sentenced for being accessory in man's death