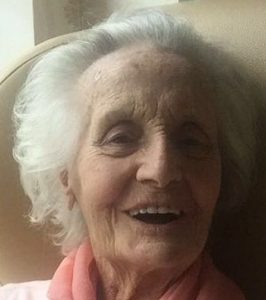 Name: Ruby Wilson.
Died: November 29, 2017.
Age at death: 94.
Cause of death: Murder.
Location: Buckhurst Hill, Essex, England, UK.
Disability: Dementia.
Details:
Ruby's grandson went to the care home where she and her husband lived; he stabbed her in the neck, killing her.
She was a great-great-grandmother who had just celebrated her 70th wedding anniversary with her husband. Her family remembers her "creativity and love for crocheting, dressmaking and bingo" and says she "always had a song to sing for every occasion". She had lived in a nursing home for seven months and enjoyed visits from family.
Perpetrator: Antony Jennings (Grandson), convicted of murder, sentenced to 22 years to life.
Source:
Police arrest man over care home murder
Man arrested on suspicion of murdering pensioner in a care home
Man arrested on suspicion of murder after elderly woman dies at care home
Arrest over woman's nursing home death
Man arrested for grandmother's murder in nursing home
Man charged after fatal stabbing of pensioner at a nursing home
OAP, 94, has 'throat slit' at nursing home as cops arrest man, 32, over murder
Ilford man charged with murder after elderly woman dies in care home
Buckhurst Hill murder: Man charged with death of 94-year-old woman at care home
Tributes paid to 94-year-old 'stabbed in the throat' at Essex nursing home
Grandson charged with murder after grandma, 94, 'stabbed in neck' in care home
Tributes paid to nan, 94, stabbed at care home after grandson charged with murder
Inquest opens after 94-year-old allegedly had throat slit by her own grandson
Great-great grandmother 'stabbed to death in nursing home by own grandson'
Grandson denies nursing home murder
Man, 33, guilty of murdering his dementia-suffering gran, 94, by slitting her throat with a bread knife in her care home
Man who murdered his grandmother jailed