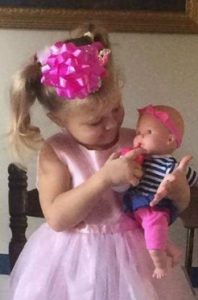 Name: Mariah Kay Woods.
Died: December 2, 2017.
Age at death: 3.
Cause of death: Murder.
Location: Jacksonville, North Carolina, USA.
Disability: Mobility impaired; wore leg braces.
Details:
When Mariah disappeared from her bed, her community searched for her for six days before her body was found. It is likely that she was kidnapped, probably sexually assaulted, and murdered by her mother's boyfriend.
Perpetrator: Earl Kimrey (Mother's boyfriend), charged with obstruction of justice and concealing a death; further charges expected.
Source:
Earl Kimrey arrested in case of missing 3-year-old Mariah Woods
Where is Mariah Woods? FBI joins hunt for missing 3-year-old North Carolina girl
Officials say body of 3-year-old Mariah Woods recovered in Pender County
Warrants explain charges against Kimrey in Mariah Woods case
Toddler Mariah Woods' Body Found at the Bottom of a Creek!
Explosive documents detail 3-year-old Mariah Woods alleged sex abuse before tot found dead in creek, CLAIMS mommy knew
Child's remains found in creek probably those of 3-year-old who vanished in the night, feds say